Victory Cheese Box + Recipe: Cheese and Potato Croquettes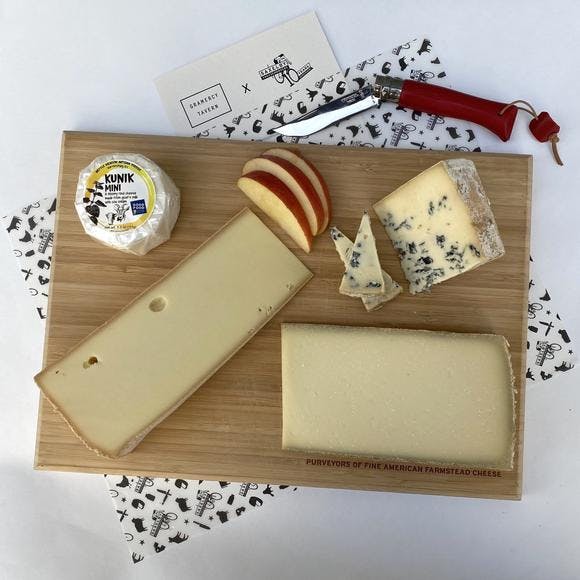 For over a decade, we have had the privilege of working with Saxelby Cheesemongers who supply the restaurant with incredible American artisan cheeses.
We're proud to partner with Saxelby for the fourth installation of their Victory Cheese Box program. Victory Cheese is a movement to sustain America's artisan cheesemakers during the COVID-19 crisis and beyond.
Now through June 24th, you can purchase The Gramercy Tavern Victory Cheese Box, featuring four cheeses Chef Mike Anthony has personally selected. These cheeses are delicious on their own, but also work great in several recipes. See below for Chef Mike Anthony's potato and cheese croquettes recipe featuring Alpha Tolman, a deliciously nutty Alpine-style cheese from Greensboro, VT.
Thanks to the incredible generosity of Saxelby Cheesemongers, 10% of profits will go to USHG HUGS, our 501(c)(3) employee relief fund awarding grants to team members facing unexpected and exceptional financial needs.
Chef Mike Anthony's recipe for Alpha Tolman Potato Croquettes:
Ingredients:
1 1/2 lbs (4 medium) Yukon Gold Potatoes
2 tbsp salt
1 clove garlic
1 bay leaf
2 cups Alpha Tolman (or other meltable) cheese
3 eggs
3/4 cup flour
1 cup panko breadcrumbs
1/2 stick butter
1 pinch smoked paprika
1 pinch nutmeg
1 pinch pepper
4 cups grapeseed (or peanut) oil

Procedure:
1. Peel and cut potatoes into 6-8 pieces.
2. Put the cut potatoes in a saucepan and cover with water by about 2 inches.
3. Add salt, garlic, bay leaf, and simmer until tender, roughly 12 minutes.
4. While the potatoes simmer, grate the cheese.
5. Prepare the breading: Separate yolks from 2 eggs. Add a whole egg to the 2 egg whites and save the yolks for step 8. Put flour and panko each in shallow bowls.
6. Drain the potatoes and toss them in the hot pan on the stove to dry them out.
7. Pass the potatoes through a ricer into a bowl (or smash with a fork).
8. Add the 2 egg yolks, butter, cheese, paprika, nutmeg, salt, and pepper.
9. Heat 3 inches of grapeseed oil in a saucepan to 350 degrees.
10. Roll out or shape the potato mixture and bread each one by passing through flour, then egg, then panko.
11. When the oil is hot, fry each croquette until golden brown.