Classic Cocktail Recipes | 25th Anniversary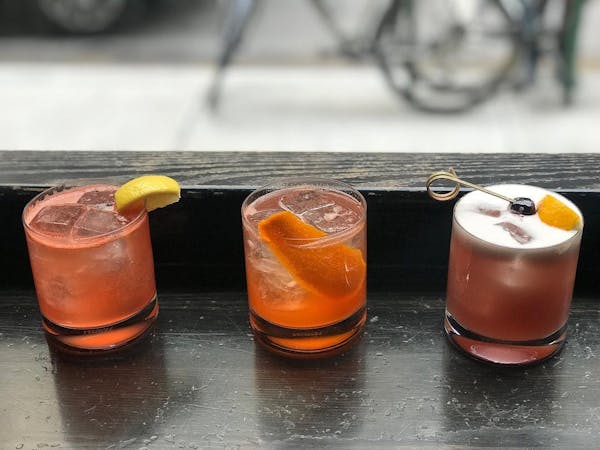 In celebration of our 25th anniversary this year we're featuring a rotating selection of our favorite cocktails throughout the years. Currently on the menu: The Roger Fitz Spritz, The New York Sour, and The Mortoni—their bright and citrusy flavors make them perfect sips for spring and summer!
Grab one at the Tavern bar during happy hour (4-6pm), or shake one up at home:
The Roger Fitz Spritz
Ingredients:
1 oz Aperol
1/2 oz Giffard Pamplemousse
3/4 oz Lemon Juice
1/4 oz Vanilla Simple Syrup
Prosecco
Method:
1. Shake together Aperol, Giffard Pamplemousse, Lemon Juice, and Vanilla Simple Syrup and strain over ice in a white wine glass.
2. Top with Prosecco, leaving about 1/4 in at the top of the glass.
3. Garnish with a grapefruit peel or edible flowers.
The Roger Fitz Spritz is great for a group, mix up a batch with:
4 oz Aperol, 2 oz Pamplemousse, 3 oz Lemmon, 1 oz Vanilla Simple
New York Sour
Ingredients:
1 ¾ oz Templeton Rye
¾ oz Simple Syrup
1 oz Lemon
½ oz Egg White
¾ oz Dry Red Wine (Shinn Merlot)
Method:
1. Dry shake until ingredients are incorporated.
2. Add ice then shake and strain into a rocks glass with ice.
2. Garnish with a cherry and an orange flag
The Mortoni
Ingredients:
1 wedge each: Lemon, Lime, and Orange
1 oz Campari
1 oz Tito's Vodka
Fever Tree Tonic (approx. 1 oz)
Method:
1. In a cocktail shaker, squeeze and drop the lemon, lime, and orange wedges.
2. Add ice and Campari and Tito's Vodka.
3. Shake well and strain over new ice in a rocks glass.
4. Top with Fever Tree tonic and garnish with a lemon wedge.
Interested in getting seasonal updates, recipes, and information on future events?
Sign up for our newsletter: